STRAPINNO
A Retractable Ratchet Strap
Our retractable ratchet straps unroll with ease as it retracts without tangling. It offers super-fast clean-up every time with no buckle threading!
In Case You Haven't Notice
It's Retractable!
Haul with ease using Strapinno's retractable ratchet straps and retractable tie down straps. Our patented technology eliminates tangles and makes securing cargo a breeze. Each strap offers a strong Working Load Limit, with heavy-duty options available also with S-hooks on both sides ensure your cargo is safely secured. Say goodbye to excess strap length and tangled straps with Strapinno's retractable solution.
Videos & Tutorials
Still have questions on how you can apply Strapinno's retractable ratchet straps for your daily need? Below, we have some videos that might offer help on your way!
RETRACTABLE
No More Hassel, No More Tangles!
Ever thought you could lock your ratchet straps and go, after everything is in place without looking back? Strapinno is your man! No more tangling and clean ups, there are no left overs for you to knot that tie. Simply because it's retractable!
Strapinno Product Line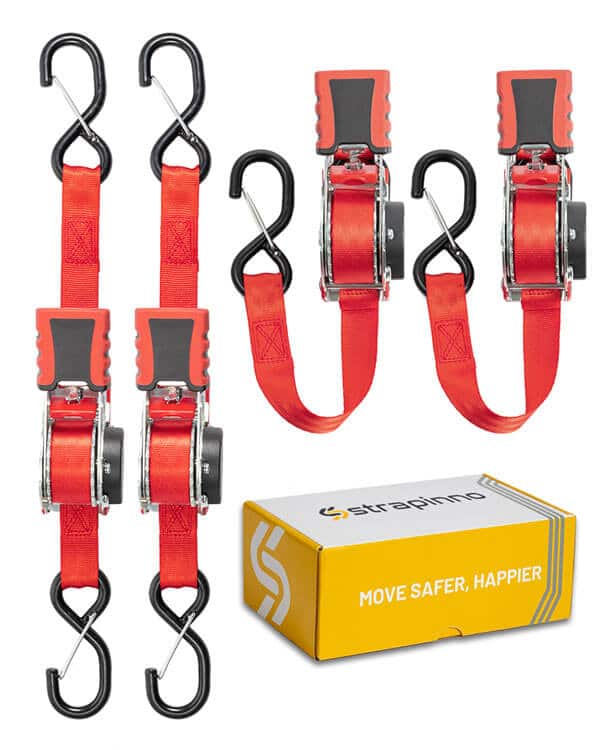 Easy Retractable Ratchet Straps 4 in 1
Let's haul them all with ease! The Strpinno retractable ratchet straps come with s-hooks on both sides that safely secure your hauling needs. Our patent-approved retractable technology will help you overcome the tangling and buckle threading from the traditional ratchet straps! Each ratchet strap can be handled at 500 lbs in Working Load Limit and up to 1,500 lbs of Breaking Strength.
Two-Way Retractable Ratchet Straps
(Strap Bundle) 2 in 1
One of our heavy-duty product line, the Two-Way, that has 2 retractable ratchet straps and also come with 2 extra straps for extension along with 4 bolt screw set in a bundle. Perfect for hauling vehicles, boats, heavy equipment, and etc. The S-hook included on all straps is made with a safety latch that offers an extra layer of security. When using the extension straps, the ratchet straps can handle up to 1,000LBS (453KG) in working load limit and 3,000LBS (1,360KG) in breaking strength.
Dual Lock Retractable Ratchet Straps
(Bolt-On Transom Bundle) 2 in 1
This mounting bundle is also part of our heavy-duty product line. The only difference between the Two-way strap bundle and this bolt-on transom bundle is what comes included with the dual lock capability. It comes with 2 retractable ratchet straps that has 4 bolt screw set and 2 installation brackets (mounts). When mounted, the ratchet straps can handle up to 550LBS (250KG) in working load limit and 1,650LBS (750KG) in breaking strength.
Contact us
For any inquiries or questions, feel free to contact us by clicking the button below to fill out the form below, and we will get back to you as soon as possible.