1 7/8in Stainless Steel Two-way Transom Retractable Ratchet Strap
$89.80
Description: Stainless Steel Two-Way Use Including 10″ extension straps & 4 stainlee steel Bolt sets
Ideal Usage: Securing Boat trailer, Jetski trailer (watersport trailer)
Width : 1 7/8in
Length : 4ft (up to 5.1ft with extension strap)
Breaking Strength : 1,650 lbs
Working Load Limit : 550 lbs
RatchetColor : Stainless Steel
StrapColor : Black
Material : Stainless Steel / Alloy Steel (S hook) / Polyester
PCS in box : 2
G.WPC/lbs : 2.54
G.W. per box : 6.7
ZERO TANGLING &
NO BUCKLE THREADING
Auto Retract for Easy Storage
Isn't it a drag having to roll a strap back up? Now you can tie and retract with ease. After use, our ratchet strap rewinds on its own. No more need for manual rolling. Now you can have time for more fun.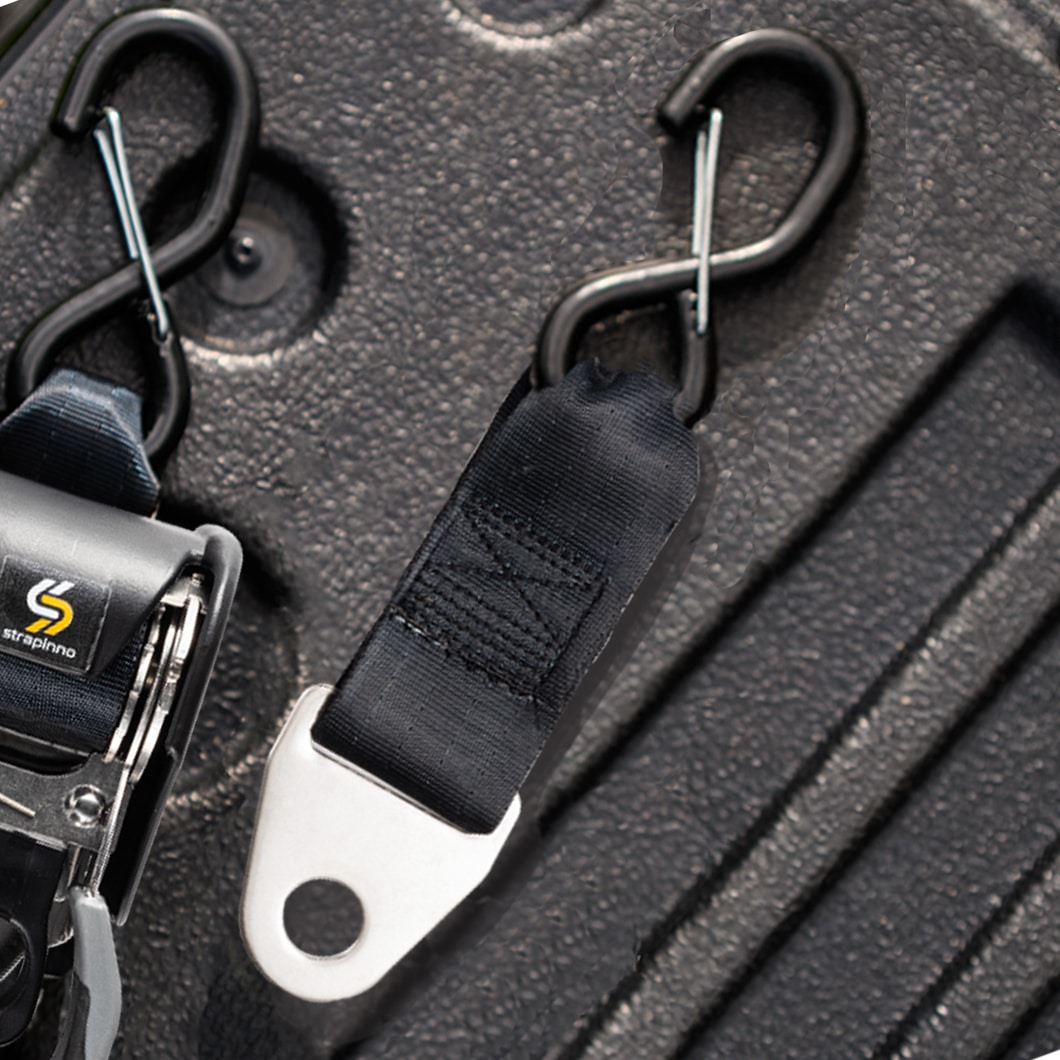 Safety Double-Checked
You don't want a flimsy hook to secure your personal watercraft. That's why we upgraded your strap with the premium S hook clip. It's designed to ensure the hooks won't come off during transit. Think of it as a double-check on your cargo.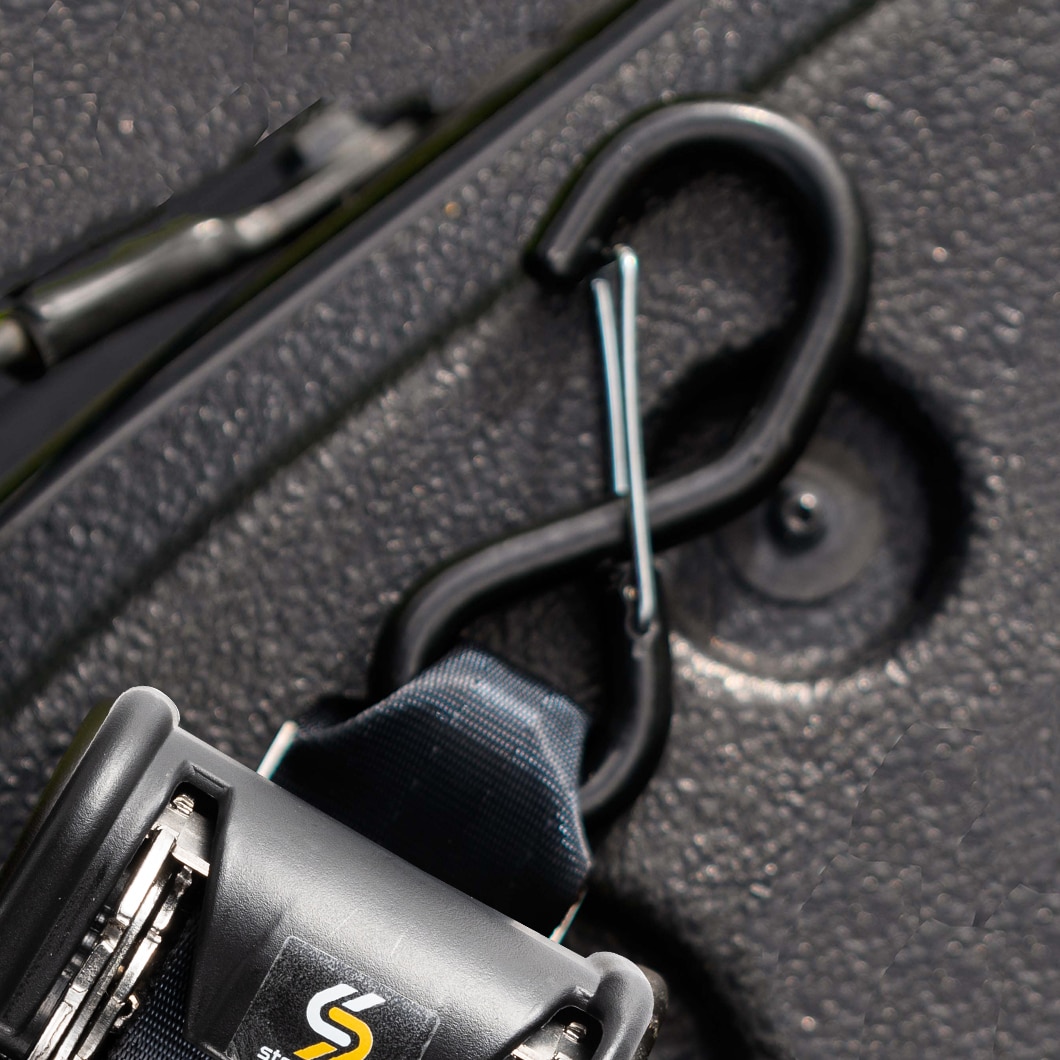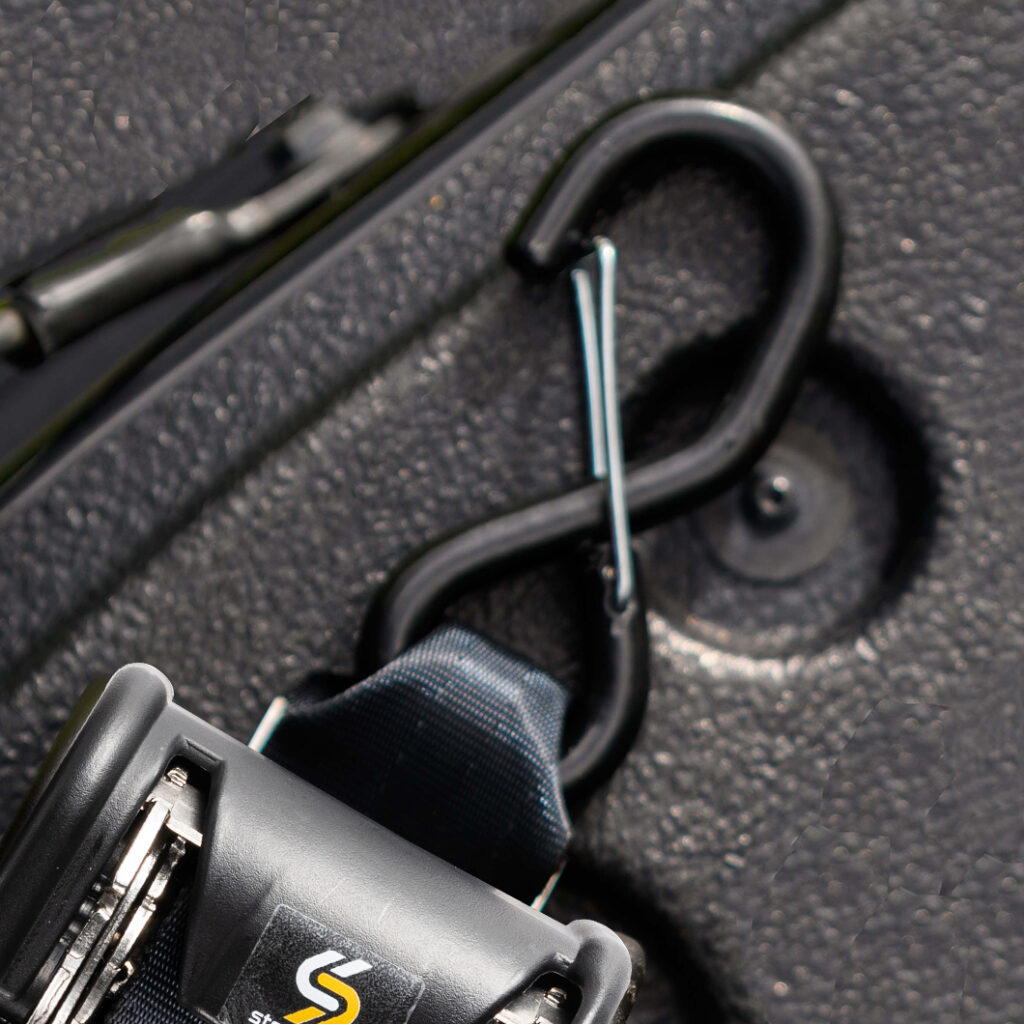 Secures Like a Bodyguard
Have peace of mind knowing your boat stays put while you're hitting the road. Our tie-down strap has 1650LBS/750KG breaking strength and 550LBS/250KG capacity. All you gotta do is drive to your next adventure.
SAFE & SECURE RATCHET STRAPS FOR ALL YOUR HAULING NEEDS
HAULING HAS NEVER BEEN THIS EASY
With Strappino Retractable Ratchet Straps, you can tie down anything in minutes!
RB204 Stainless Steel /Steel Specs
Best for your Boat and Trailer
1 Strap. 2 Ways.
1 7/8-in x 4-ft , Polyester Webbing
Safety Latch S Hook
2 pcs Extension Straps (Stainless Steel adapter plate and Coated Steel S Hook)
2 Sets of Short Stainless Steel Bolts
2 Sets of Long Stainless Steel Bolts
550LBS/250KG Working Load Limit
1,650LBS/750KG Breaking Strength
Wrench not included
How to Maintain Your Retractable Ratchet Strap?
It is advised that a lubricant be used on all of our retractable ratchets to help the retraction mechanism to pull the strap back onto the reel.
| | | | | | | |
| --- | --- | --- | --- | --- | --- | --- |
| | | | | | | |
| | Easy Retract Ratchet Straps | Jetski Ratchet Strap with Triple Hook | Two-Way Use Transom Ratchet Strap | Stainless Steel Transom Dual Lock Ratchet Strap | Heavy Duty Ratchet Strap | Heavy Duty Soft Loop Strap |
| Ideal Usage | Securing motorcycle, kayak, furniture, and general cargo | Securing jetski, PWC, and watersport trailer | Securing ATV, boat, jetski, and lawn tractor | Securing boat, jetski, and lawn tractor | Securing ATV, UTV, RZR, SXS, boat, and cargo | Creating a tie-down point for motorcycle, jetski, ATV, and UTV |
| Width x Length | 1″ x 10′ | 1″ x 15′ | 1 7/8″ x 4′ | 1 7/8″ x 4′ | 1.5″ x 20′ | 1.7″ x 17″ |
| Breaking Strength | 1,500lbs | 3,000lbs | 3,000lbs | 1,650lbs | 6,600lbs | 10,500lbs |
| Color Available | Red, Black | Red | Black | Black | Yellow | Red, Black |
| Working Load Limit | 500lbs | 1,000lbs | 1,000lbs | 550lbs | 2,200lbs | 3,500lbs |
| Pcs. in a box | 4 | 2 | 2 | 2 | 1 | 4 |
| Retractable | ✓ | ✓ | ✓ | ✓ | ✓ | X |