Simplify RV Adventures with Retractable Tie-Down Straps
The Ultimate Guide to Enhancing RV Camping with Retractable Ratchet Straps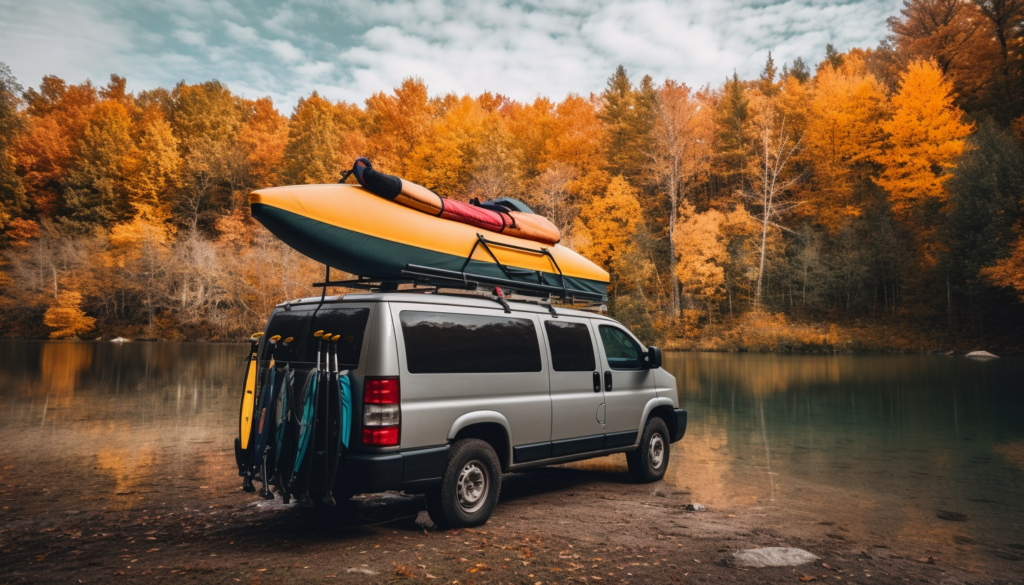 Fall in the United States is like nature's grand tapestry, and what better way to soak in its splendor than through RV camping? It's no secret that Americans adore hitting the road for a dose of fall foliage therapy, and when they do, more than half of them are cozying up in their trusty RVs.
In 2022, over 35 million Americans rolled into the great outdoors in their trusty RVs. Camping's popularity is booming, with over 15 million new campers pitching their tents (or parking their RVs) for the first time in the last two years. It's like a camping revolution, and everyone wants a piece of that sweet s'mores action.
If you're gearing up for an unforgettable fall RV camping adventure, you're in for a treat. As the leaves change and the great outdoors beckons, ensuring your journey is smooth and hassle-free is essential. One way to achieve this is by using retractable tie-down straps.
This comprehensive guide will explore these amazing cargo tools and how they can simplify your RV camping experience. From securing your gear efficiently to prioritizing safety, these versatile tools are the perfect companions for your RV lifestyle.
Maximizing Storage Space
Every inch of space is crucial in an RV, which essentially becomes your home away from home during your trip. Retractable ratchet straps are invaluable for optimizing storage and ensuring everything remains securely in place. They work as a reliable means to hold down items like kayaks, boxes, and luggage, preventing them from shifting and causing disarray inside your RV.
Ensuring Safety On the Road
Safety is of topmost priority during RV camping, and tie-downs are crucial in ensuring your equipment doesn't become hazardous while you're traveling. These straps work behind the scenes to keep your gear secure and prevent unexpected mishaps, such as kayaks falling off the road.
Convenience and Ease of Use
Simplicity and convenience are essential in RV camping, and retractable straps offer just that. They are user-friendly, allowing quick extension and retraction, ensuring a secure hold without unnecessary complications. These tools simplify the process of securing your gear, saving you precious time and effort.
Adaptability on the Road
RV camping often involves spontaneity and adapting to changing circumstances. Retractable straps offer the flexibility needed to adjust to shifting storage requirements. They can accommodate new items, enable you to reconfigure your load, and respond to changing weather conditions without any fuss.
Weathering the Elements
Mother Nature can be unpredictable, and RV campers need to be prepared for various weather conditions. Retractable tie-downs act as a safeguard during adverse weather, ensuring your equipment remains secure even in strong winds, rain, or on bumpy roads.
Balancing Security and Simplicity
Achieving the perfect balance between security and simplicity is vital for a successful RV camping experience. Retractable tie-down straps strike this balance effortlessly, allowing you to easily secure your gear while keeping it safe throughout your journey.
Tips for Choosing the Right Retractable Straps
Selecting the perfect retractable ratchet straps can be a game-changer for your RV adventures. To make your decision even more informed, here are some quick tips:
Load Capacity: Consider the weight and size of the items you plan to secure. Ensure the straps you choose have an appropriate load capacity to handle your gear.
Durability: Look for straps made with high-quality materials that can withstand exposure to UV rays, moisture, and general wear and tear. This ensures your straps will last through multiple adventures.
Locking Mechanism: Check the locking mechanism for ease of use and reliability. A user-friendly ratcheting system will save you time and effort.
Strapinno's retractable straps check all the boxes when it comes to ideal tools for every RV camper. Strapinno understands the needs of RV enthusiasts and goes the extra mile to enhance your camping experience. With their reliable locking mechanism, durable materials, and ergonomic design, Strapinno's retractable ratchet straps ensure your RV adventures are easier and worry-free.
The Takeaway
As you prepare for your unforgettable fall RV camping adventure, remember that simplicity and security go hand in hand. Retractable tie-down straps are your trusted companions on the road, maximizing storage space, ensuring safety, and offering the adaptability you need to weather-changing circumstances. Their user-friendly design and durable construction simplify the process of securing your gear while keeping it safe throughout your journey.
So, whether you're a seasoned RV enthusiast or a newbie to the camping revolution, make sure to choose the right retractable straps like Strapinno's, and embark on your RV adventures with ease and peace of mind. Happy trails!
—
Ready to enhance your RV camping experience? Get the perfect retractable ratchet straps at Strapinno.com today!