The Best Revolutionary Retractable Ratchet Straps, Strapinno.
Are you looking for a new and improved safety mechanism for your gear? Look no further than the retractable ratchet straps! Ratchet straps are perfect for safely securing cargo and keeping it from moving around while in transit. Whether you are hauling and transporting, securing the big boys like bikes, furniture, or any types of equipment, or just hauling heavyweight items that need to be strapped down without disturbing other compartments inside your pickup truck they come in handy every time all throughout, especially with the Retractable Ratchet straps like Strapinno, simply pull to release or lever up and down to tighten without any part of your straps hanging anywhere else! It's a smart straps retractable ratchet tie downs.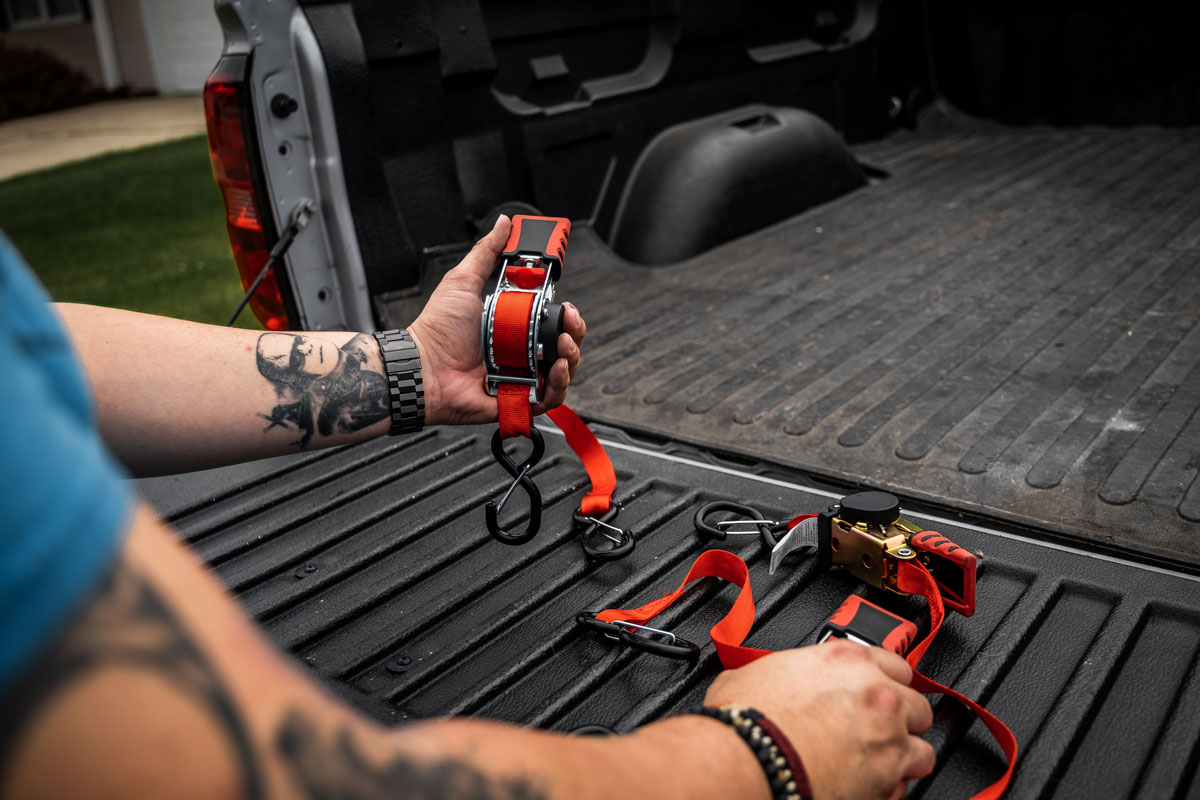 Ratchet straps are available in both manual and retractable varieties. The manual ratchet strap requires you to use your hands to tighten and loosen the strap, while the retractable ratchet strap features a ratchet mechanism that does the tightening and loosening for you. So what's best?
The retractable ratchet strap is the clear winner here. Not only is it faster and easier to use, but it's also more secure. A manual ratchet strap can easily loosen if not tightened properly, while a retractable ratchet strap will stay in place until you release it.
So if you're looking for a safe and easy way to secure your cargo, it's Strapinno that you'll be looking for. We have the best retractable ratchet straps on the market, perfect for any need you may have.
What are Retractable Ratchet Straps?
Ratchet straps are perfect for safely securing cargo and keeping it from moving around while in transit, especially the retractables. The retractable ratchet strap is the clear winner. The speed of use at which they go has been so impressive that even big airlines now offer them as an option. They're not as bulky and can be attached/detached very quickly.
Retracted/Detachable- It comes out once used up a lot (60%) of Speed – Works very fast, I can tighten it with one hand while the other holds the object being tied down, unlike normal ones in which you have to stop and remove the tool to tighten it sufficiently with hands on both the strap and buckle. With the retractables, simply pull the lever up and down, it'll tighten up itself automatically without any hassle.
The ratcheting system is a brilliant invention that has made securing cargo much easier than the traditional tie-downs used years ago. It's time to throw away your old-fashioned, outdated traditional ratchet straps.
Is Retractable Ratchet Straps a Good Idea?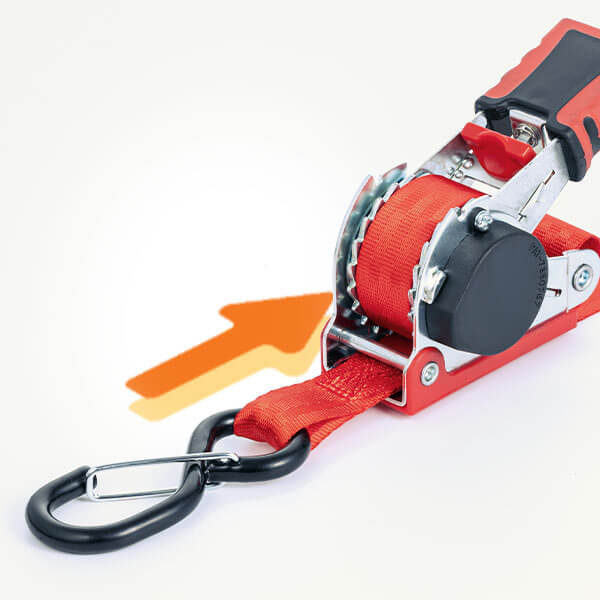 Easy to use by anyone, just a little to no practice. Secures quickly and very tightly- the key advantage over traditional ones. Unlike the traditional ones, where we had issues reattaching when we needed tighter security(like putting skis, tightening boat, ATV, etc.) on the back of our vehicle for long-distance traveling, these retractable ratchets solved that by quickly and easily clicking-in with the lever pull. Not to mention, they're really affordable. To unlock, the traditional ones have to be pulled so tightly, it'd make your hand cramp up with a bit of technique and force. The retractables, on the other hand, can be quickly and easily unlocked with very little pressure, relatively speaking. With absolutely no hang back, the lever itself can be pulled to unlock very easily. Did I even mention that there is no need to clean up? You'd have to clean everything up every time there's a traditional ratchet strap being used. With the retractables, there's barely any mess at all. There are no straps hanging, no leftovers, and definitely no hassle.
What are the Benefits of Retractable Ratchet Straps?
Durability – Will last as long as the material it's made of. You don't really need to replace something every time there's a need for ratchet straps, unlike, say belts where the belt itself will need to be replaced. It's affordable and long-lasting, meaning if there's ever a rip (which it's unlikely) simply get another set. Security- Other straps loosen over time and this one doesn't. The ratchet mechanism helps to make sure it doesn't loosen. There are no pins or clanks in this model, it just smoothly pulls out and retracts back in when unlocked with the pull handle.
Versatility – It can be used for multiple items as long as it falls within the weight limit, not just for a car but for motorcycles, boats, and even small airplanes. The strapinno retractable ratchet straps come with different categories, the Eazy Straps, which can basically strap any small to big items on a pickup truck or trailer. The heavy-duty, like its name, secure items from big to heavy-duty hauling like ATVs, golf carts, machinery equipment such as generators or motors… you name it! There are also options like the bolt-on, which is perfect for permanent mounting to a truck or trailer. This is so far, the best retractable ratchet straps out here on the market.
Where Can You Get The Retractable Ratchet Straps?
You can get them here at Amazon.com (Click Here) and many more places across different stores/websites! There are catalogs on the official website of Strapinno you can check out. With different weight limits for each option, it really is the perfect tool for multiple items. And with the retractable function, it's really easy to use and take wherever you go. It's probably a good time to pick your own for use!