Dual Lock Stainless Steel Transom Retractable Ratchet Straps
Explore Strapinno's 1 7/8in Dual Lock Stainless Steel Transom Retractable Tie-Downs.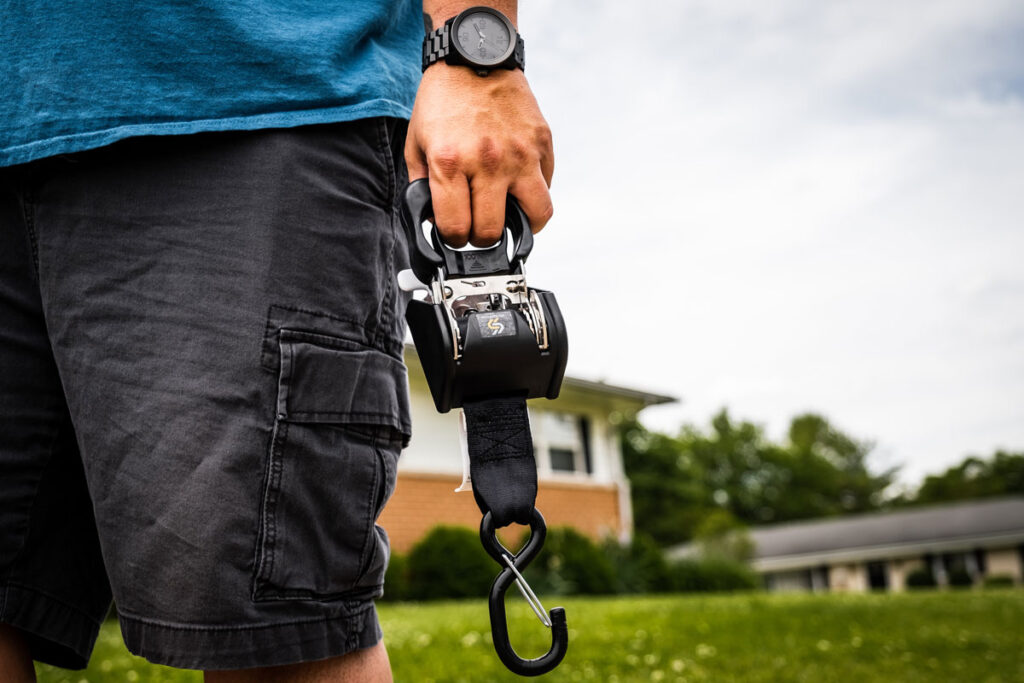 When it comes to securing your valuable cargo during transportation, one tool that stands out is Strapinno's 1 7/8in Dual Lock Stainless Steel Transom Retractable Ratchet Straps. These ingenious tie-downs, permanently mounted and built to last, have revolutionized the way we secure our belongings during transit.
Today's article will showcase these particular retractable ratchet straps from Strapinno and explore why these tie-downs are the ultimate solution for hassle-free hauling. So, whether you're hauling a boat trailer or planning an adventurous road trip with your motorcycles, keep reading to discover how these cargo tools can make your life easier.
The Unbeatable Features
1. Auto Retract for the Win
You've just loaded your precious cargo onto your trailer, and it's time to secure it. You'd typically wrestle with tangles with traditional straps and spend precious minutes threading strap buckles. But with Strapinno's retractable straps, this frustration becomes a thing of the past.
These straps automatically unspool without tangling, saving you valuable time and energy. No more wrestling with a spaghetti-like mess of straps. It's the ultimate solution for everyone who needs to secure their load.
2. Ready to Use
Imagine the convenience of having ratchet straps that are always ready for action. Strapinno's retractable design ensures that they're prepared for use 24/7. There's no need to fumble with threading strap buckles or tying off loose ends.
It's self-retracting, making it a breeze to secure your cargo quickly and efficiently. After use, these straps easily roll back up and are ready to be stored away neatly.
3. Versatile Cargo Tools
Strapinno's tie-down straps can secure your boat, jet ski, or any waterborne vessel you have. But they can do more than that. These straps are perfect for a wide range of outdoor activities and hauling needs.
They are uniquely versatile, from securing camping gear for a weekend in the wilderness to fastening down big two-wheel rides for a cross-country adventure.
4. Sturdy Hardware
Durability and strength are at the heart of Strapinno's Dual Lock Transom Retractable Straps. They boast rubber-coated steel handles, ensuring a comfortable grip and long-lasting use. The sturdy polyester webbings provide reliable strength, and the locks guarantee that your cargo stays firmly in place.
With a Working Load Limit of 550 lbs (250 kg) and a Breaking Strength of 1,650 lbs (750 kg) each, these tie-downs are designed to handle your toughest hauling challenges.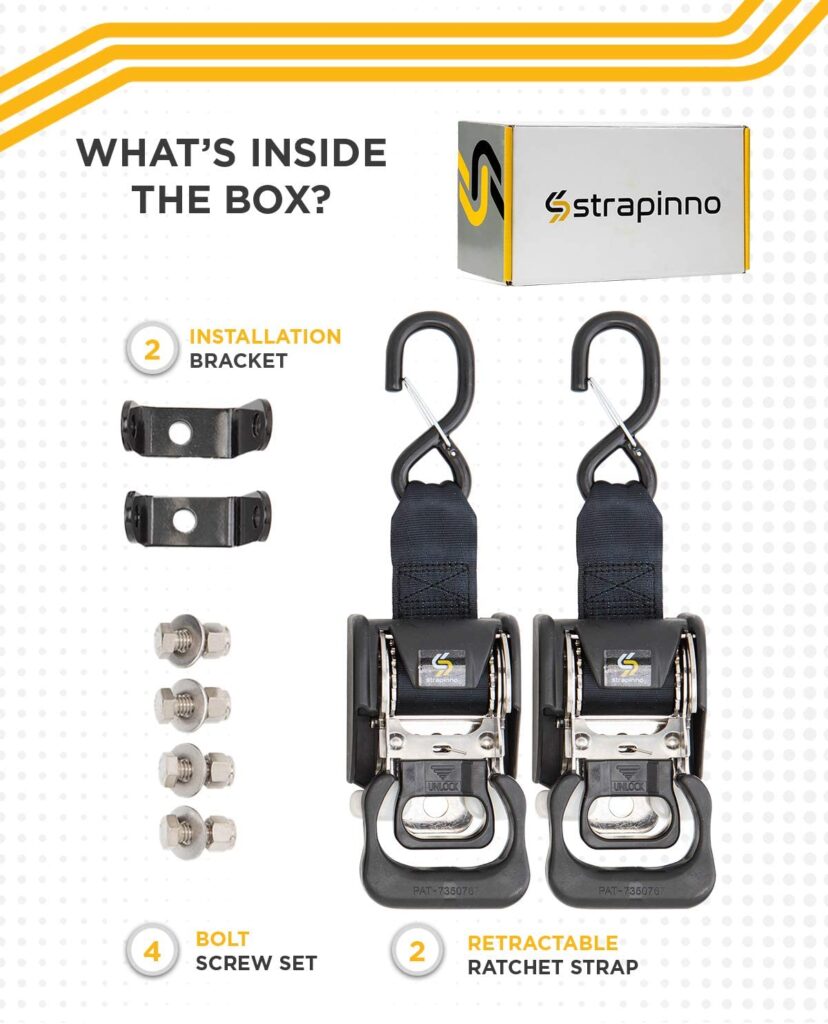 Specifications that Matter
Before you decide to invest in Strapinno's dual-lock tie-downs, it's crucial to understand their specifications:
Product weight: 6.95 lbs
Strap length: 4 feet
Breaking strength: 1,650 lbs (750 kg)
Working load limit: 550 lbs (250 kg)
These specifications highlight the durability and reliability of these straps, making them an excellent choice for securing your cargo.
Additional Benefits
Beyond their standout features and impressive specifications, Strapinno's Retractable Ratchet Straps offer several additional benefits that set them apart:
1. No Mess and Tangles
Tangled straps are a thing of the past. With the auto-retract feature, you'll never have to deal with a knotted mess again. Your hauling experience just got cleaner and more efficient.
2. Rubber-Coated Steel Handle
The rubber-coated steel handle not only provides a comfortable grip but also ensures that your hands stay safe during use. It's a small detail that makes a big difference.
3. Safety Clip
Securing your cargo with utmost safety is crucial. These tie-downs come equipped with a safety clip to ensure that your load stays securely fastened throughout your journey.
4. Easy and Secure Latch
The easy-to-use latch mechanism ensures that you can quickly and securely fasten your cargo, saving you time and effort.
The Takeaway
Strapinno's 1 7/8in Dual Lock Stainless Steel Transom Retractable Ratchet Straps represent a significant advancement in cargo security during transportation. These innovative tie-downs eliminate the hassle of dealing with tangled straps by featuring an auto-retract function, saving you both time and effort. They are ideal for a wide range of hauling needs, from boat trailers to adventurous road trips.
With their durable construction and impressive specifications, these tie-down straps are well-equipped to handle even your most demanding cargo. In addition, they have extra advantages like no tangling, a comfortable hold, safety features, and an easy latch. These benefits make them the best choice for easy and trouble-free carrying.
Bid farewell to traditional strap-related headaches and simplify your cargo-securing process with Strapinno's transom tie-down straps.
—
Ready to simplify your cargo securing process and experience hassle-free hauling? Visit Strapinno.com now to purchase our Dual Lock Stainless Steel Transom Retractable Ratchet Straps. Secure your cargo with ease!