The Heavy Duty Tie Down Ratchet Straps, But Retractable
Securing and carrying cargo is always a hassle. STRAPINNO brings you the answer to this common problem by introducing our Heavy Duty tie down Transport Retractable ratchet straps. Our retractable ratchet straps help you secure, tighten and relax your heavy-duty cargo quickly, smoothly, and effortlessly – all by yourself!
How to use the Heavy-duty Retractable Ratchet Strap for Transport
All you need to do is to wrap the strap around your cargo and pull the lever back into its place for automatic tightening. The retractable feature will roll up the excess webbing. With STRAPINNO's retractable strap, there are no more bulky spools to deal with, nor are there any tangles or loose webbing at the end of your journey any more. Your cargo is securely tied down without any effort on your part. For professionals as well as do-it-yourselfers, it's time to stop worrying about loosening cargo while driving, or spending 10 minutes to secure your heavy loads or items while you only need less than a minute, because STRAPINNO is here to help you solve this problem once and for all!
The Quality of our Retractable Ratchet Straps
Our retractable heavy duty tie down version is made with the highest quality materials and is designed to last. It has a strong steel handle and lever that allows you to easily release or hold the tension in the strap when it is extended or retracted. You can lock your retractable cargo strap in place if you want it to stay out of your way while driving! The durable polyester webbing material won't break or fray and can support up to 10,000 pounds.
What Can You Haul With These Tie-Down Retractable Ratchet Straps?
We've designed our ratchet straps to solve the typical problem that everyone is struggling with the tightening and bucking of traditional straps. With STRAPINNO's retractable ratchet strap, you don't have to worry about spooling, dealing with extra length, and loose webbing. Securely tie down your dirtbike, ATV, jetski, boat, equipment, and other cargo via trailers or pickups.
You can now drive with confidence with our heavy-duty tie down ratchet straps and never worry about loose webbing again. Whether you're hauling off-road or anything heavy that's less than 10,000 lbs, these straps are designed with safety in mind so you can drive with confidence. They have been developed to be super easy to use and will automatically retract without tangling or twisting. Simply pull the strap back down after use, and it'll roll itself back into its ratchet holder for your next time use.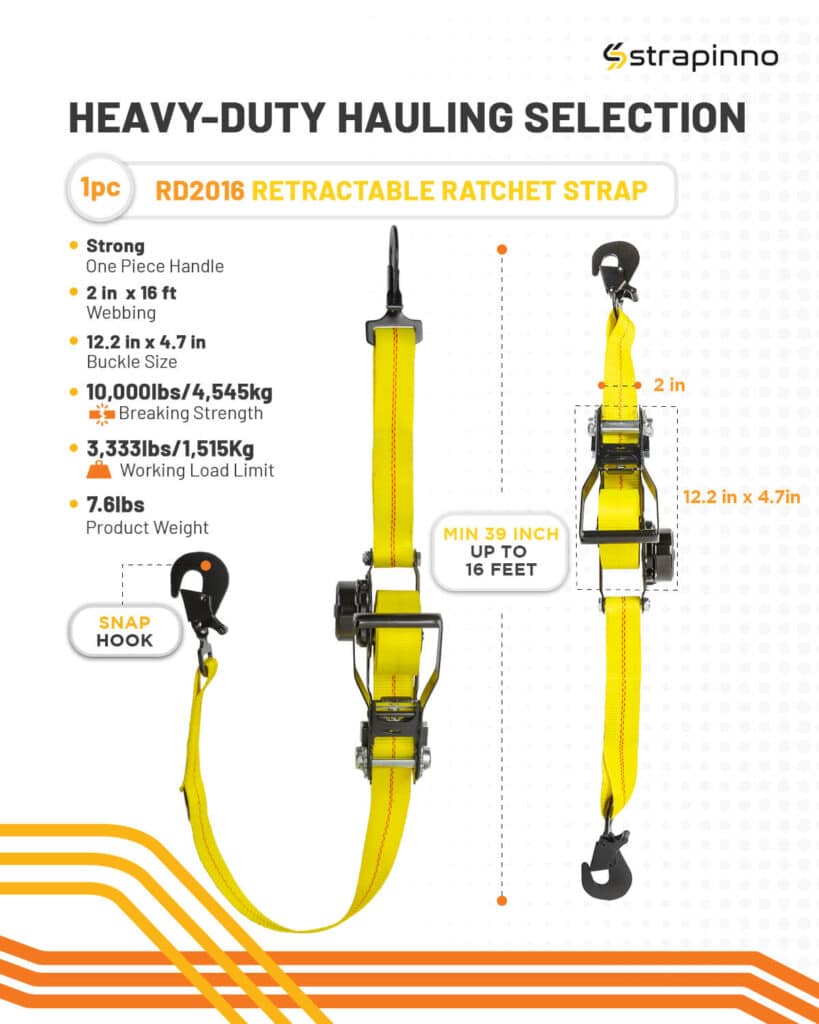 Is Retractable Ratchet Strap the future?
Of Course! Think about this, just about 10-15 years ago, people are still using foldable phones and blackberries. The first generation of iPhones JUST CAME OUT! The majority of people didn't believe that two years later smartphones are the way to go. Strapinno works the same way! With the right amount of innovation and execution, we know for a fact that Retractable Ratchet Straps will be the future of the hauling industry. Let's face it, no matter where we move or what we need to haul, ratchet straps are always our safest bet. With the help of innovative technology, retractable ratchet straps will be known worldwide. Just like the phone industry, Strapinno will be the new Apple, and you are at the beginning of this upcoming trend.
More information on Heavy duty tie-down retractable ratchet straps here, or you can go straight to our purchase page to get one today.