The 411 on Strapinno's Soft Loop Straps
Learn more about the use and importance of soft loop straps.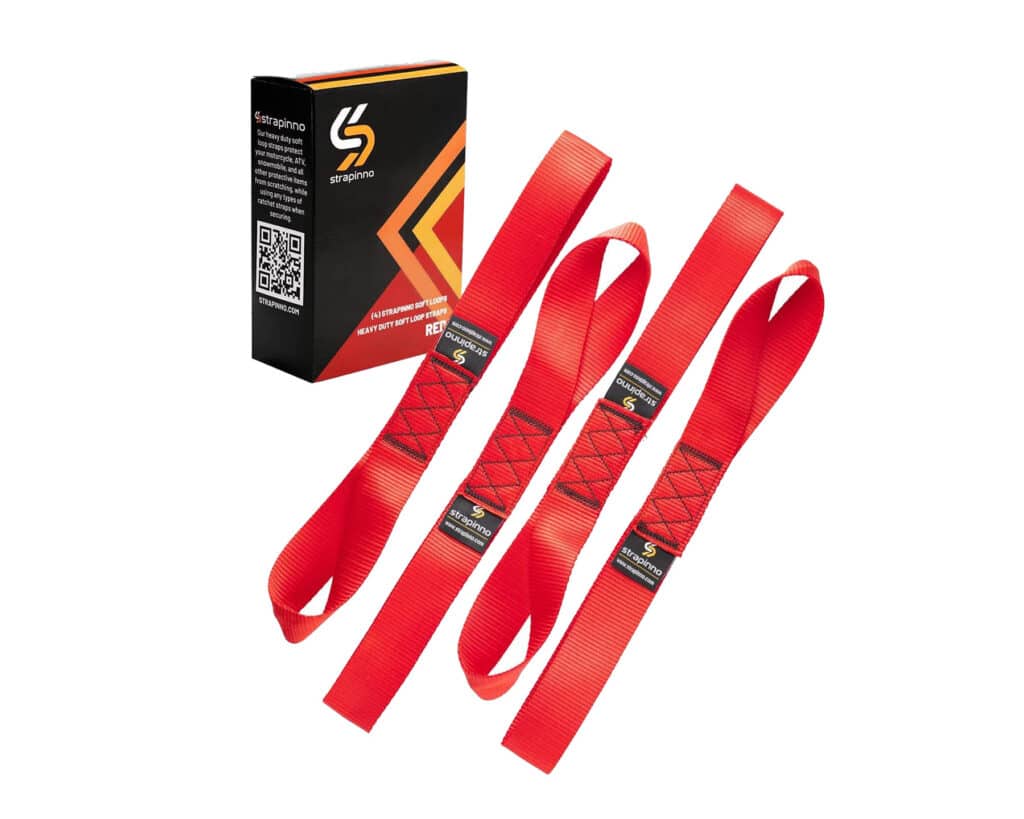 Are you an outdoor enthusiast, a logistics pro, or simply someone who's always on the move, transporting gear and vehicles? If so, you've probably encountered the need for secure tie-down solutions to keep your precious cargo intact during transit. In the world of hauling, retractable ratchet straps have become a go-to choice for many due to their reliability and ease of use. But, as with any endeavor, there's a finer detail that can make all the difference – soft loop straps.
Strapinno's soft loop straps are nifty accessories designed to provide tie-down points for attaching hooks while ensuring the safety of your cargo. They're aptly named "soft loops" due to their gentle yet robust nature.
Today's article will explore these often-underappreciated accessories and why they are the perfect companions for retractable tie-down straps.
The Versatile Strapinno Soft Loop Straps
When it comes to securing your cargo, versatility and reliability are non-negotiable. Strapinno's soft loop straps boast a robust 10,500 lbs breaking strength and a 3,500 lbs working load limit, making them ideal for handling even the heaviest loads. Made from durable polyester webbing, these soft loops are built to withstand the most demanding challenges your adventures can throw at them.
Strong Stitch Pattern for Extra Durability
One key factor that sets Strapinno's soft loop straps apart is their strong stitch pattern. These soft loops feature a three-layer webbing with reinforced stitching, ensuring they remain in peak condition over the long haul. Whether you're navigating rocky terrains or cruising down the highway, you can trust these soft loops to keep your cargo securely in place.
Securing Your Gear, Scratch-Free
Soft loop straps can prevent unsightly scratches marring the pristine surface of your prized vehicle. They create secure tie-down points to attach hooks, preventing direct contact between the metal hooks and your vehicle's paintwork. Say goodbye to worrying about scratches and dings while on the move.
The Perfect Companions for Retractable Ratchet Straps
You might wonder why we emphasize combining soft loop straps with retractable tie-down straps. The answer lies in their complementary roles. Retractable straps are fantastic for providing the tension needed to secure your cargo tightly. However, some may fall short in length when you're dealing with larger vehicles and equipment. Strapinno's soft loop straps serve as extension straps, allowing you to secure even the bulkiest loads easily. This duo ensures that your cargo remains stable and snug throughout your journey.
Convenience in a Box
With Strapinno, you don't have to worry about running out of extension straps. Each box contains four soft loops, providing you with ample options to secure your gear. Plus, you can choose between classic black or vibrant red to suit your style and preferences.
Move Safer and Happier with Strapinno
Strapinno's 1.7in x 17in Soft Loop Straps are more than just accessories; they are your reliable companions for a safe and enjoyable hauling experience. With their exceptional strength and protective capabilities, these soft loops ensure that your cargo reaches its destination unscathed. Paired with retractable ratchet straps, they become an unbeatable duo that guarantees secure transport, whether you're an outdoor adventurer or a logistics professional.
So, the next time you embark on an adventure or take on a cargo transport task, remember to equip yourself with these soft loops. With these trusty tools by your side, you can move safer and happier, knowing that your precious cargo is in the best hands.
In the world of hauling gear and vehicles, where every detail counts, Strapinno's soft loops and retractable tie-down straps are the secrets to a worry-free journey. Make sure to leave home with them!
—
Ready to upgrade your cargo hauling game? Head over to Strapinno.com to invest in the unbeatable combination of soft loop straps and retractable tie-downs. Your cargo deserves the best – secure it with confidence today!