Discover the Power of Blue Retractable Ratchet Straps
Your ultimate hauling solution from Strapinno is now available in your favorite color.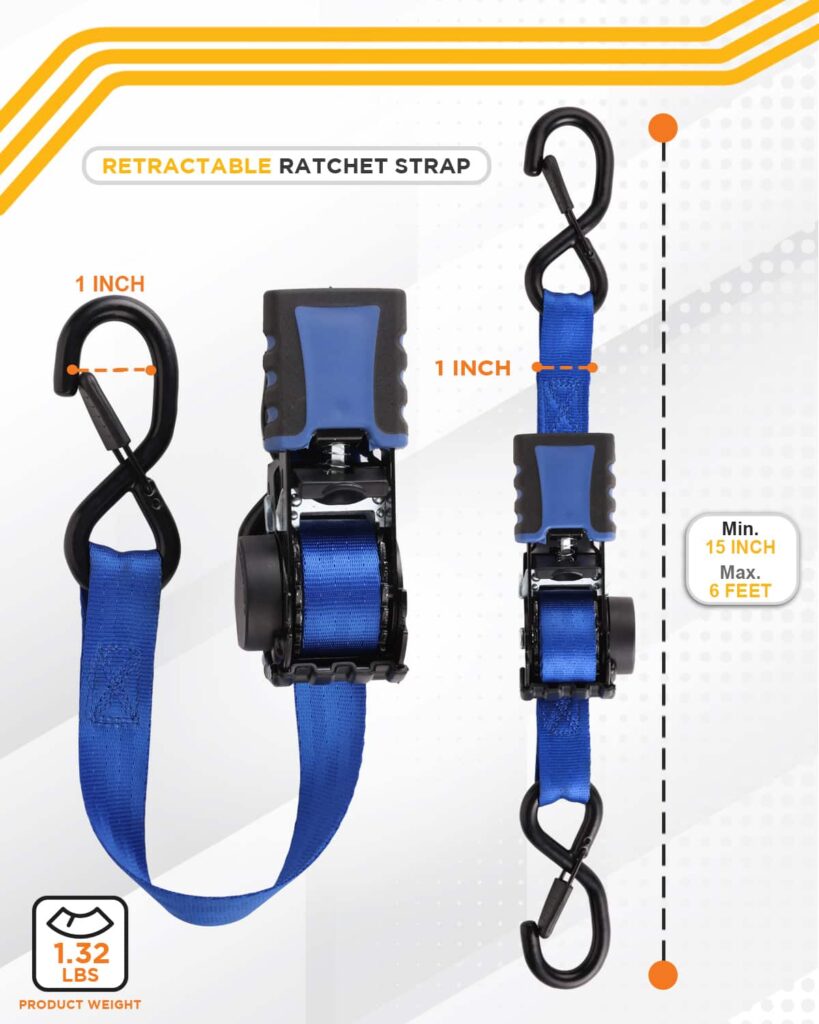 Introducing a revolutionary solution for all your hauling and securing needs – the blue retractable ratchet straps by Strapinno! Beyond just appearances, these tie-downs are engineered to combine functionality and style seamlessly. Whether you're an outdoor buff looking to secure your prized bike into a truck or a business owner in need of reliable cargo transportation, the blue retractable straps are about to become your new favorite tool.
Today's article will showcase Strapinno's blue tie-down straps and explore its amazing features.
Blue Retractable Ratchet Straps: A Splash of Innovation
The first thing that might come to mind when it comes to securing your cargo is traditional ratchet straps. But Strapinno has taken this concept to a whole new level with its vibrant blue tie-downs. It's not just about the eye-catching color; these 1-inch by 6-foot straps pack a punch of features that make them stand out from the rest.
Unveiling the Features that Matter
Weather-Resistant Rubber Cover Clip Hook: Enhance your tie-down experience with the latest addition to our lineup – the weather-resistant rubber cover clip hook. This hook is designed to withstand the elements and provide extra grip, ensuring your cargo stays secure even in challenging conditions.
Stainless Steel Spring: What's the point of a ratchet strap if it doesn't last? The stainless steel spring embedded in these straps ensures unparalleled durability and longevity. Wave goodbye to frayed and worn-out straps and embrace Strapinno's reliability.
No More Tangles: One of the most frustrating aspects of traditional tie-downs is the inevitable tangling and twisting. But not with the blue retractable straps. They unspool smoothly, with no tangles, no mess, and roll back up effortlessly, ready for your next adventure.
Effortless Operation: Imagine easily securing your load on the roof rack all by yourself. With latching S-hooks, the auto-retract mechanism turns the chore of tying down into a breeze. Extend, latch, tighten, and release – all without breaking a sweat.
Rock-Solid Security: Whether you're transporting a cargo bag or your beloved motorcycle – these straps hold everything securely in place. The sturdy hooks ensure that even bumpy roads won't make your cargo budge. It's a smooth ride all the way.
Unmatched Capacity: These blue retractable straps aren't just about convenience; they bring serious muscle to the table. Each strap boasts a remarkable working load limit of 500 lbs and an impressive breaking strength of 1,500 lbs. That's the kind of strength you can rely on.
Why Choose Blue Retractable Ratchet Straps?
Safety, security, ease of use, and an all-new bright color, are the cornerstones of the blue retractable tie-down straps from Strapinno. Unlike manual straps that can be tricky to set up, these auto-retract straps offer a safer and quicker way to secure your cargo. These tools ensure that your load arrives intact and in style. And yes, the non-traditional tie-down color makes it unique and pretty cool!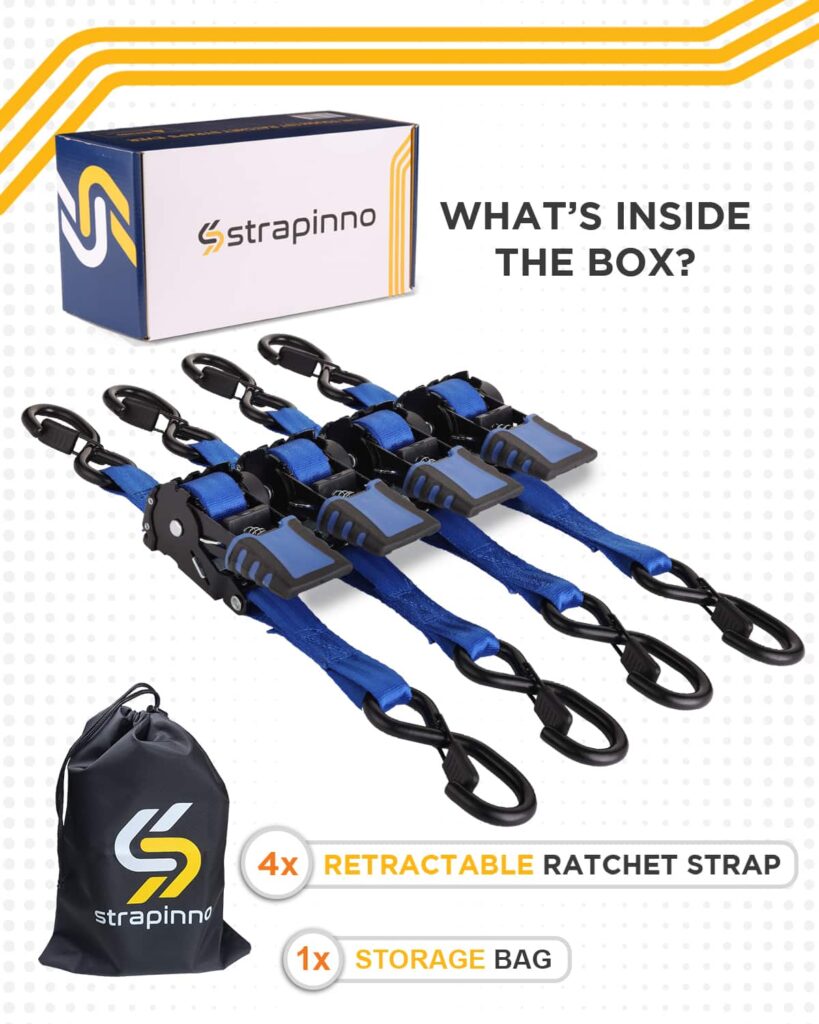 Grab Your Blue Tie-Downs and Make Waves!
In a world where efficiency, style, and security intersect, Strapinno's blue retractable straps stand out as the ultimate solution for your hauling needs. Say goodbye to tangled messes and complicated setups. Embrace the future of hauling with these innovative straps that simplify your tasks and add a touch of flair to your adventures. Don't miss out on this game-changing upgrade – get your blue tie-downs today and make waves on the road!
—
Check out the Strapinno 1 in x 6 ft Blue Retractable Ratchet Straps on Strapinno.com – an upgraded product that takes your securing needs to the next level. Boasting a cutting-edge design, these straps come with a rubber-coated steel handle, sturdy S hooks, and an impressive breaking strength of 1,500 lbs, combined with a reliable working load limit of 500 lbs.
What sets these straps apart is their innovative construction and enhanced features, making them a superior choice for any fastening task. And that's not all – this blue strap is just the beginning of our upgrades. We're committed to delivering even more value to our customers, as all our 1″ x 6" products are scheduled for an upgrade in the near future. So stay tuned!